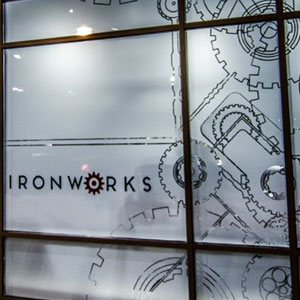 Our glass etch films provide a beautiful means of creating an entirely new environment of light, space, dimension and visual effects. The 121 Etch has become the standard in the industry. This has been a top seller internationally for 30 years and is our best selling etch film. The frosted effect allows the perfect amount of light to pass through the glass while protecting privacy in homes, offices and commercial environments.
The 125 Diamond Etch film itself is unique in the fact that not only does it look great and sparkle more than our standard glass etch products – it feels different. When you touch our Diamond Etch, you can feel the texture of the film itself. When seen in direct light, you can also see the difference in texture and brightness. The Diamond Etch actually sparkles.
Our Etch films reduce eye strain and improve conditions for office employees because of the use of natural light.
For more information on this unique product, call today for a color chart of our complete Etch Collection, including all of our quality products. These films can be cut to any size and all standard etch films can be printed providing your customer with personalized options.