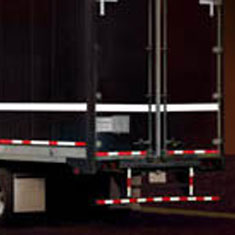 Research has documented that vehicle conspicuity tape improves vehicle safety through accident avoidance and reduction in accident severity.  Increased safety results in reduced liability payments and additional savings for your fleet. Conspicuity tape is designed to provide better vehicle visibility at dawn, disk and night.  Our products are ideal for a variety of applications, including, fleet vehicles, school buses, farm implements, and slow moving vehicles. 
American Traffic Safety Materials, Inc offers a variety of tape converting services for pressure-sensitive adhesive products, with attention to detail and a focus on quality.   
ASTM has been converting pressure-sensitive tape products for over 30 years.  Converting tapes requires special machinery and ATSM had a variety of equipment designed to perform specific functions in the conversion of many different products. 
Currently, we operate a variety of machines, including duplex rewind slitters, baloney cutters, tape  
slitters, sheeters and punching equipment. These machines have attributes that make each of them suitable for rewind/slitting certain materials.  
Our processes allow for precision slitting through the use of a razor, baloney cut, or score slitting, 
Rolls of material can be slit to as narrow as 1/8" inch width, and up.  Tolerances are typically 1/64" but may vary depending on the material being slit. 
We also require minimal edge trim so our yield may be greater than other converters.